Optima Process Systems, Inc. is focused on helping the oil industry deliver cleaner energy by leveraging existing low-cost technologies. This letter will provide a business development update and technology overview.
FluidOil's VHTL heavy oil upgrading technology has massive commercial potential.
IMO 2020 will drive Optima's ship-based desulfurization solutions.
During the past 12 months, Optima has worked diligently to identify new low-cost technologies, reviewed the companies that own these technologies and create strategies to work with them to commercialize their products. Optima has identified certain brilliant technical solutions, but some are housed in companies that lack the industry contacts and financial wherewithal to commercialize them. This is where Optima can add tremendous value by working with these technology companies to bring their products to market. Our team of professionals has a track record of creating and transforming under-resourced companies into viable entities.
Through our diligence and discussions, we have now identified the three best technologies that Optima wishes to use on its ship-based systems or on land-based applications based on client preferences. Our focus is now to deepen our relationships with these companies and develop commercially viable projects.
FluidOil, Ltd. VHTL:
Last month, Optima announced that it had signed a Memorandum of Understanding with FluidOil, Ltd. of Basingstoke, England, to provide Optima with valuable technology that it will help to commercialize. FluidOil is working to take its advanced and patented VISCOSITOR Heavy-to-Light (VHTL) upgrader to commercial production. It converts low-quality high sulfur crude oils and upgrades them to high-quality synthetic crude similar to Brent crude oil. Simultaneously, the VHTL reduces sulfur and other impurities further enhancing the value of the crude.
Heavy oil upgrading is a cornerstone of Optima's business strategy. This technology, when combined with our ship-based delivery system, is aimed at struggling refiners whose process units cannot take the low-cost high sulfur heavy crudes. Without Optima, they face possible bankruptcy as they cannot afford to renovate their refineries using oil industry standard equipment which is upwards of five times as expensive. FluidOil estimates that VHTL process can add up to $30/bl1 in value.
In 2000, Olav Ellingson developed FluidOil's VISCOSITOR for Petróleos de Venezuela, S.A., "PdVSA", the state-owned oil company of Venezuela. FluidOil combined its VISCOSITOR with the Ivanhoe Energy's Heavy-to-Light (HTL) upgrading technology to create its VHTL. Ivanhoe had hired industry leaders to develop its technology and spend over $100 million in building and developing its upgrading technology. FluidOil acquired Ivanhoe's technology and its patents in 2016. FluidOil's low-cost upgrading technology is now poised to enter the massive and growing market for heavy oil upgrading. Optima will utilize FluidOil's technology to exploit this $300 billion market.
Optima is developing projects in South America using the FluidOil VHTL for land-based and ship-based projects. Optima will use its extensive development experience to secure projects utilizing the VHTL technology in heavy oil-rich countries like Ecuador, Columbia and Guyana. Through Venro Petroleum, Inc., Optima seeks to capitalize on one of the best low-cost heavy oil upgrading technologies in one of the world's most prolific heavy oil reserves in the world. Venro Petroleum has been trading heavy oil for the last three decades, and through its Chief Executive, Raphael Rojas, brings unparalleled access to key decision makers in the region.

Since the MOU signing, FluidOil has also identified opportunities for FluidOil's remediation technology. More importantly, Optima and FluidOil will use this remediation technology to provide a means for a low-cost market entry strategy. Remediation is cleaning up slop oil pools or lakes of contaminated oil left by environmentally delinquent oil companies. There are funds available for cleaning up these waste pools which can provide possible routes to profitable project development. Optima is currently exploring varied applications of the VHTL upstream, downstream and in combination with remediation technology. This fall Optima hopes to announce economically viable projects using FluidOil's technology. The announcement of its first project will be another significant milestone for Optima and will open up world-class upgrading technology to the massive South American market and beyond.
Desulfurization: Optima's second target market.
Desulfurization reduces the sulfur content in oil and oil products which, when used, produces less sulfur dioxide- a significant health and environmental hazard. Due to the International Maritime Organization regulation known as "IMO 2020", the shipping industry is being forced to reduce the sulfur content in it's marine or bunker fuels from 3.5% to 0.5% by January 1st, 2020. Given that over 90% of world trade occurs on ships and 90% of the world's sulfur dioxide production is a result marine fuel combustion, there is a major and urgent need for IMO 2020 compliant low sulfur marine fuels. Unfortunately, it will take years to add additional refining capacity to meet the expected 3mm BPD transition on January 1, 2020. "The future is not bright for the refineries that cannot remove the sulfur. 'Those refineries that continue to produce HSFO after the IMO change will potentially find it harder to market their product and risk going out of business,' says Charles Daly, Chairman of Channoil. 'Unless they invest a minimum of $0.5bn, a lot of small refineries will probably have to close.'"2
Optima has identified and engaged with two low-cost next-generation desulfurization technology developers. While neither company's technology is commercially proven we believe both companies will offer processes which can desulfurize refinery residual streams to produce IMO 2020 compliant LSFO. Last week, we identified an opportunity and started discussions with one of our preferred desulfurization technology providers and a client. Via these confidential discussions, Optima should gain greater access to utilize this low-cost desulfurization technology for our ship-based delivery system.
In addition, we continue to engage with a second attractive desulfurization technology provider, though their technology is undergoing extensive testing and may not be commercially viable until 2021.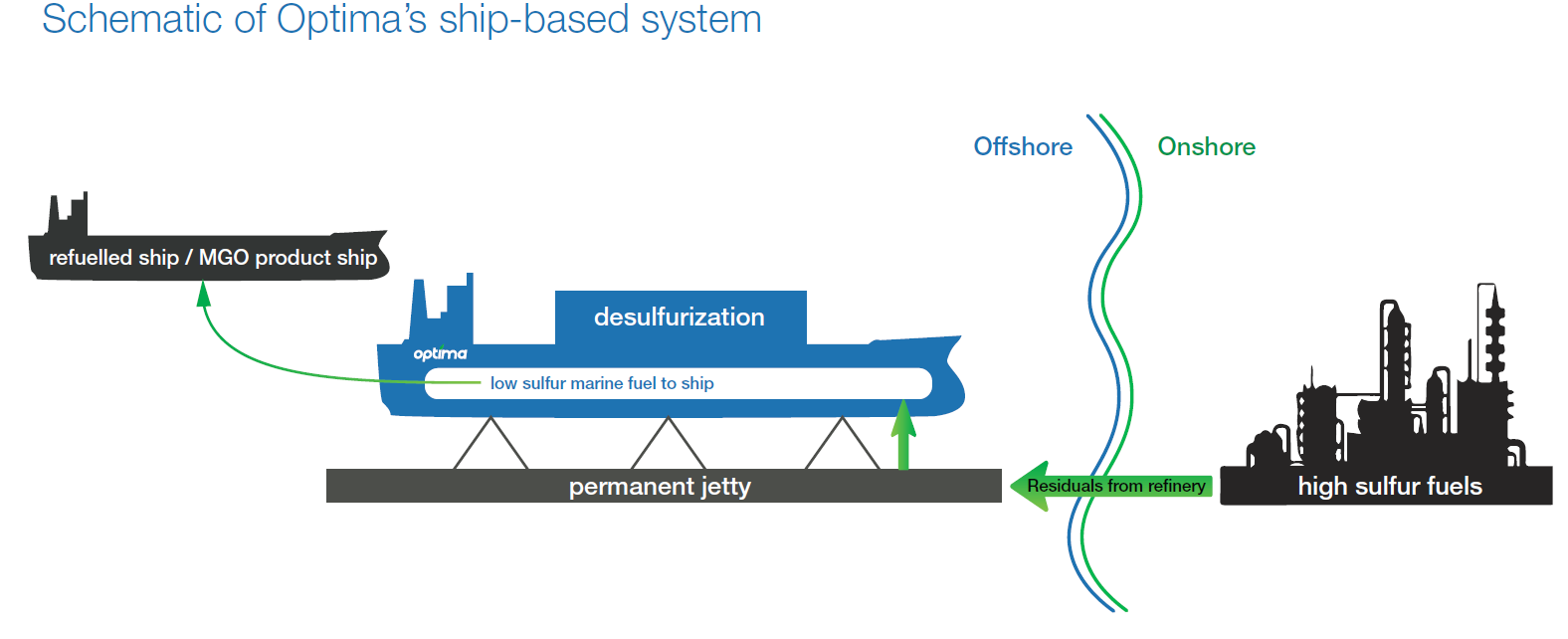 Based on past successes, our team remains committed and excited about ship-based desulfurization systems given their unique logistical and economic benefits. Those benefits are:
Rapid deployment relative to land-based refinery retrofits.
Due to low-cost modular construction, attendant utilities, "free" real estate and worker accommodations, ship-based solutions should be 30% cheaper than land-based solutions.
Most importantly is the symbiotic and synergistic benefits of refiners and shippers working as partners in a project.
Shipowners are confronted with a surplus supply of low-cost redundant tankers whose day rates are lower than newer ships. By providing ships, the shipper can then increase the day rate of their ship meaningfully by deploying a ship-based desulfurization system on its deck. Refiners are also economically compromised by their inability to fund the retooling of their refineries with desulfurization equipment to meet IMO 2020. As project developer, Optima will provide desulfurization equipment to the refinery and increase the economic value of a ship by providing suitable desulfurization technology to the shipper which meets IMO 2020 specifications.
Optima met with leading shipping companies Euronav NV, Braemar ACM and Clarksons Platou, who confirm our ship-based solution strategy was of considerable interest to the shipping world. As the technology development completes at our preferred desulfurization process providers, Optima will engineer and provide viable business solutions for ship-based desulfurization clients.
In less than a year, Optima has identified two huge markets, leading upgrading and desulfurization technology providers and found willing industry partners. In the coming months, Optima will make further progress and develop our first pilot projects.